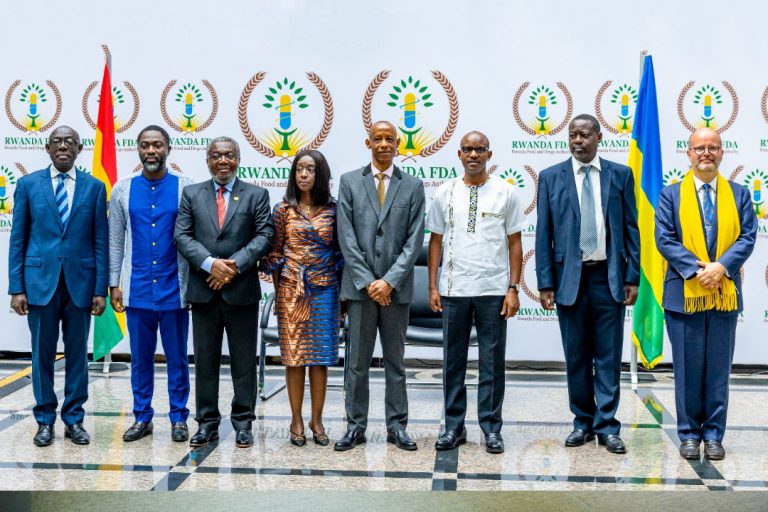 A memorandum of understanding (MoU) was signed by the Food and Drug Authorities (FDA) in Rwanda and Ghana to work together to strengthen their respective regulatory frameworks. The function took place at Rwanda FDA head office.
The MoU has been signed by the Director-General of Rwanda FDA, Dr. Emile Bienvenu, and Delese Mimi Darko, Chief Executive Officer, Ghana FDA. On hand to witness the signing of the MoU was Rwanda's Minister of state in charge of Primary Healthcare Dr. Tharcisse Mpunga.
This collaboration will ensure the safety, quality and efficacy of the first mRNA Covid-19 vaccine to be manufactured in Africa. Moreover, "This agreement will not only look at vaccines but also other medicines. Indeed, it will fill the gap in vaccine and drug availability." Dr Mpunga said.
According to Delese Mimi Darko, CEO of the Ghana FDA, this form of regulation will make each party stronger. "As regulators, the more we strengthen each other, the better it is for medicine security. We cannot sit in a respective country and expect that if one country is low in regulations it will affect another, it is good for us as regulators to strengthen each other to ensure the safety of medicine." She stated.
Dr. Emile Bienvenu, Director General, Rwanda FDA, added that this MoU will therefore see Ghana FDA support Rwanda FDA in the attainment of WHO Global Benchmarking Maturity Level 3 (WHO GBT ML 3) since the latter has already reached Maturity Level 3.
Rwanda FDA was established by the Law No. 03/2018 of 09/02/2018 determining its mission, organization and functioning. The mandate of the Authority is to protect public health through regulation of human and veterinary medicines, vaccines and other biological products, processed foods, poisons, medicated cosmetics, medical devices, household chemical substances, tobacco and tobacco products.
Ghana FDA is a regulatory agency established under the Ministry of Health by Section 80 of the Public Health Act, 2012 (Act 851) to regulate food, drugs, food supplements, herbal and homeopathic medicines, veterinary medicines, cosmetics, medical devices, household chemical substances, tobacco and tobacco products, and the conduct of clinical trials. (End)
Related