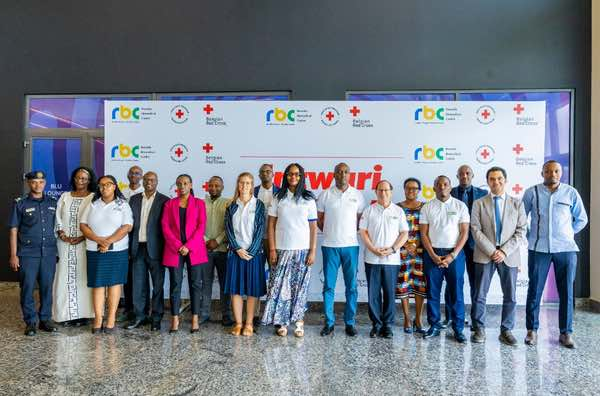 Rwanda Biomedical Center through its Blood Transfusion Division (BTD) has launched "Intwari Club 25".
This is an initiative to mobilize blood donors, especially young people, to commit to donating blood 25 times in 7 years for whole blood donors and 2 years for apheresis donors.
Targeting young people from 18 to 25 years of age, the initiative aims at ensuring a steady supply of blood and harnessing the hospital demand.
During the event, the African Society of Blood Transfusion has commended Rwanda's efforts in ensuring a higher uptake of blood donation by the population.
Dr. Farook Muhammend, the Managing Director of The African Society of Blood Transfusion said that Rwanda's innovation and commitment in ensuring donation make it stand out among the best in Africa.
"If you look at the innovation part, Rwanda is open to using new technologies and mastering them faster. Also to mention, the country is known to have the best blood delivery by drone, look at Zipline, which you can't find in many European countries but Rwanda is a model in this area," he commented.
This, he continued, made Rwanda jump from the first level accreditation in 2015 to the third and highest accreditation level in 2017.
Rwanda is among three countries in Africa that have topped the highest blood transfusion alongside Tanzania and Namibia accreditation.
Rwanda's hospital blood supply stands at 99.42 percent according to the RBC figures of 2022.
Delivering his remarks, the Director General of Rwanda Biomedical Center, Prof. Claude Mambo Muvunyi called out young people who are eligible to donate blood as people are the single source of blood.
"As of now, there is no factory that manufactures blood. The only factory and source of blood is me and you, we are the only ones who can come at rescue of our colleagues who are suffering in the hospital," he said.
Dr. Thomas Muyombano, the Division Manager of the Blood Transfusion Services clarified that the launch of Intwari club 25 does not mean there is a deficit of blood units, as hospital demands currently stand at 99 percent.
"It is rather to ensure we stand firm in the blood supply chain and stand firm in any season", he commented.
Rwanda's hospital blood supply stands at 99 percent
Figures from Rwanda Biomedical Center (RBC) indicate hospital blood supply stands at 99.42 per cent as of 2022. Also, RBC says that 78,838 blood units were donated in 2022, of which 21,482 units equivalent to 27.24 per cent were donated by youth between 18- 25 years of age.
In the previous year, RBC Blood Transfusion Division received a total of 71,933 blood units donated.
The blood group with the highest number of donors is O+ with 39,558 blood units received last year while O-had 7,611 blood units last year.
The blood group with the lowest blood units is AB- with 145 blood units.
Hospital demand currently stands at 94.42 per cent, implying there is enough blood in the bank to satisfy hospitals. (End)
Related