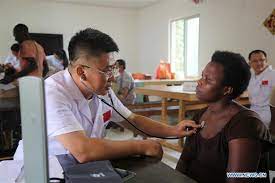 The 22nd Chinese Medical Mission organized a free consultation and treatment campaign for patients at Gahanga Health Center. Services offered to patients under the Chinese Medical Outreach Program in Rwanda range from internal medicine, diagnosis of different diseases and general surgery, among others. The team also transferred patients to referral hospitals, donated medicines and medical equipment worth Frw 700,000.
Since 1982, the Chinese government has sent 22 medical missions to Rwanda with a total of 273 members. This year marks the 40th anniversary of the China Medical Mission in Rwanda. Over 40 years of working in Rwandan towns and villages, Chinese medical teams have written their stories of success and dedication.
The 22nd Chinese medical mission has 15 members including 11 doctors, 1 nurse, 1 translator and 2 leaders. This year's medical outreach is taking place from 6-8 September 2022 at Gahanga Health Center in Kicukiro District of Kigali City.
In cooperation with local medical personnel, the Chinese medical team is expected to complete the diagnosis and treatment of more than 300 patients and provide local people with services such as health consultation, ultrasound, dental examination, electrocardiogram and Chinese acupuncture.
Dr. Peng Jikui, the team leader, explained that the medical outreach program is part of his country's commitment to help Africans easily access medical services. "We are celebrating the 40th anniversary since China started sending medical specialists to Rwanda. We are not only providing free medical services in Rwanda but also in other African countries," he said. Dr. Peng expressed optimism that the patients will recover quickly given the prescribed medications.
The head of the Gahanga health center, Jean Marie Vianney Barinzi, congratulated the Chinese medical specialists for their intervention. "We expect a lot from these Chinese doctors because they have different specialties. They also gave us medicine and medical equipment that was supposed to help us improve services," he noted.
Espérance Mukangwije is among the beneficiaries who underwent minor surgery. She was treated as soon as she arrived at the health center, thanks to the partnership between Rwanda and China. Maniragaba, another patient who received free medical treatment, was enthusiastic about the quality services received free of charge. "I was surprised to receive these services for free without having to take out community health insurance or other payments. It is extremely exciting. I am optimistic that the prescriptions received will undoubtedly help me recover," she said. Other beneficiaries expressed their joy at receiving free medical services without delays or referrals to hospitals. (End)
Related