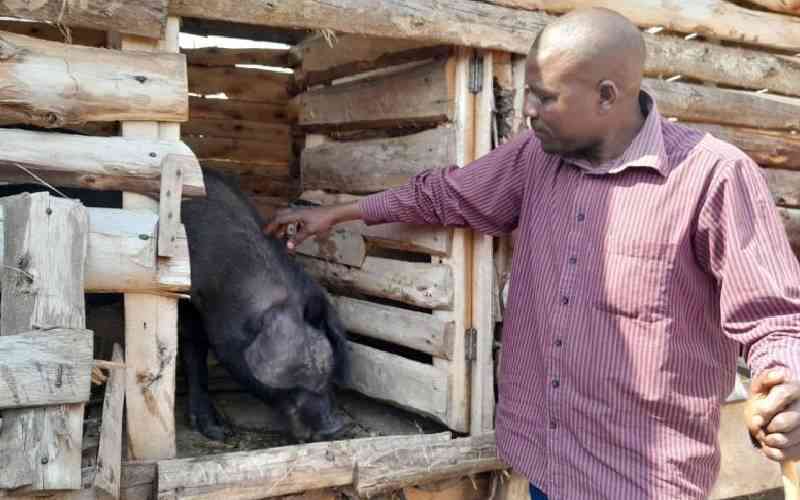 Julius Tumushabe vividly recalls the two nights he spent in the wilderness after a hunting spree turned into an endless nightmare. He was then a poacher.
But surviving by a whisker inside Queen Elizabeth National Park in Western Uganda, is an experience the 42-year-old father of eight, would not wish on his worst enemy.
The self-proclaimed reformed poacher now rears pigs in Gwerere village in Kanungo, West Uganda where his new lifestyle has earned him a new identity, and improved his relationship with Uganda Wildlife Authority (UWA) besides keeping him off the bush.
Julius, who was coached by his father to hunt when he was 14, is one of more than 30 reformed poachers now into pig rearing and beekeeping.  
His turning point was in 2009 when he and his friends went hunting "racing buffaloes, but I accidentally got injured and I could not move. My friends told me they would return for me after their kill but never returned. I was left for dead."  
He was found and rescued after two days by poachers hunting after antelopes.  
"That was a turning point for me," recalls Julius. "I arrived home, sick, tired and in pain, I told my wife that I will never go hunting for bush meat again."
Quitting bush meat hunting spread like wildfire and with dire consequences as "my life was threatened by poachers and villagers who presumed I was an informer. Others felt deprived of bush meat by my decision."
Many poachers in Uganda hunt for elephants, antelopes, gorillas, pangolins and buffaloes. But illegal poaching attracts a maximum fine of Ush200 million (Ksh6.3 million) or life imprisonment or both, according to the Uganda Wildlife Act 2017.   
Julius was later approached by UWA officials to identify injured wild animals as part of training on wildlife conservation. He later mobilised some poachers and formed the Kamame Reformed Poachers in 2016, a group that now rears pigs and keeps bees.
In September 2021, the group received 20 pigs and 40 beehives from World Wide Fund (WWF). The beehives were erected at the boundary of the park where they keep elephants away from destroying crops on nearby farms.
For most reformed poachers, living in the wild, surviving on wild meat and fruits was very risky and "I witnessed my friends die, others were shot by UWA officers or attacked by animals," recalls Charles Ng'ambeki. "I was afraid and I decided to stop."
Martin Asimwe, the secretary of the group, says among challenges faced include perception by the community, dealing with human-wildlife conflict as the community experiences frequent attacks from lions and elephants while beehives have been affected by wildfires.
The lions also eat the piglets and the reformed poachers argue that if the Ugandan government erects an electric fence around the national park, it would serve as a barrier to wild animals destroying crops and injuring people.
Water is another challenge as piglets consume about 500 litres daily which is very costly and the "acute shortage during dry seasons becomes a challenge for the piglet project," laments Asimwe, also a reformed poacher.
During drought, Asimwe says "high temperatures lead to unexpected abortions in pigs." 
Related Topics